Spiced Pepitas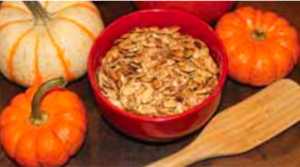 These crunchy pumpkin seeds are lemony, salty, spicy and zesty, all at the same time. A handful of these toasted tidbits whets the appetite.
Yields: 2 cups
2 cups raw pumpkin seeds 1 Tbsp grated lemon zest 1 Tbsp lemon juice
2 tsp salt
1 tsp ground cumin
1⁄2 tsp freshly ground black pepper 1⁄2 tsp ground coriander
1⁄2 tsp ancho chile powder
1⁄2 tsp cayenne pepper
1⁄4 tsp garlic powder
1⁄4 tsp sugar (optional)
Preheat the oven to 375° F.
In a medium bowl, toss together the pumpkin seeds, lemon zest, lemon juice, salt, cumin, pepper, coriander, chile powder, cayenne and garlic powder.
Spread the mixture on a baking sheet and bake for 5 minutes.
Remove the baking sheet from the oven and shake to redistribute the seeds, and then bake for another 3 minutes. Pull it out to shake the pan again. Then nish baking for 1 to 2 minutes or until the pumpkin seeds are crispy and golden without burning them.
Transfer to a cool baking sheet and cool completely before storing in an airtight container.
Courtesy of Sandra A. Gutierrez, SandrasKitchenStudio.com.
Truffle Spiced Popcorn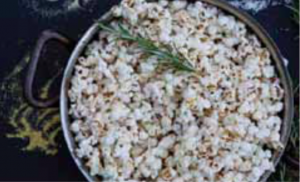 This wicked, fresh, piping-hot popcorn is kissed with a simple blend of rose- mary, onion and truf e oil.
Yields: 9 cups
21⁄2 Tbsp grapeseed oil
A bit less than 1⁄2 cup popcorn kernels 1 Tbsp truf e oil
2 Tbsp nutritional yeast
1⁄2 Tbsp onion granules
1⁄2 tsp fresh rosemary, minced
Sea salt to taste
On medium heat, warm the oil in a large saucepan with a lid.
Remove from the stove and add all kernels in an even layer on the bottom of the pan.
Cover for 20 seconds to allow all the ker- nels to become coated and reach equal temperature so they all pop at once.
Place the covered pan back on the heat and shake it while it's on the burner. The kernels will slowly begin to pop; once they start, crack the lid slightly to let out a bit of steam. Continue shaking the pan over heat until the popping stops.
Remove from the stovetop immediately and pour all popcorn into a large bowl.
Drizzle with truf e oil, nutritional yeast, onion granules, minced rosemary and sea salt. Shake and mix well before serving.
Courtesy of Chad and Derek Sarno, WickedHealthyFood.com.
Beer-Miso-Sriracha Roasted Chickpeas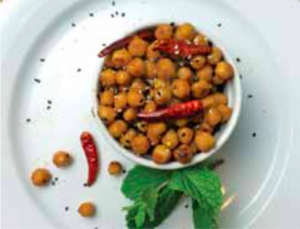 Any favorite beer will work.
Yields: 2 to 4 servings
1 (151⁄2 oz) can chickpeas or garbanzo beans, drained and set aside
1 Tbsp sriracha
1 Tbsp organic miso paste (any color) 1/3 bottle of beer
Black and white sesame seeds
Dried chili to taste
Smoked salt for garnish to taste
Preheat the oven to 375° F.
Whisk wet ingredients until mixed well. Toss mixture with chickpeas.
Place mixture on baking pan and roast for 20 to 30 minutes, shaking and stirring periodically until mixture is evaporated and chickpeas begin to get color; beware of burning.
Garnish with sesame seeds and dried chili, maybe a little smoked salt.
Courtesy of Chad and Derek Sarno, WickedHealthyFood.com.
Frothy Hot Chocolate with Pistachio Milk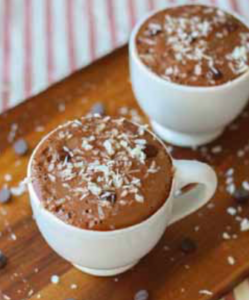 Cozy up and indulge in this thick, creamy and rich hot chocolate made with whole food ingredients.
Yields: 2 servings
Pistachio Milk
1⁄2 cup raw shelled pistachios 2 cups ltered water
Cocoa
1⁄2 to 3⁄4 cup unsweetened baking cocoa or cacao powder
1⁄4 to 1⁄2 cup date paste
1 tsp cinnamon
1 tsp vanilla extract
Dash Himalayan pink salt
For the pistachio milk, soak the nuts overnight in a bowl of water.
Rinse before placing them into a high- speed blender with the 2 cups of water. Blend until the mixture is completely puréed and milky.
Strain mixture through a nut milk bag or cheesecloth; then add the nut milk back into the blender.
Add all other ingredients and blend at a high speed until thick.
Note: If using a regular, slower blender, re-warm the hot chocolate on the stove top. It may not be as thick and frothy but will taste good.
Courtesy of Sophia DeSantis, VeggiesDontBite.com.
Chicken Rice Soup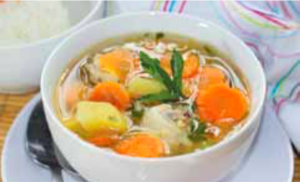 Yields: 6 servings
2 quarts chicken stock (page 124 Nourishing Traditions Cookbook) or other organic stock
1 cup brown rice
1 cup nely diced chicken meat and or chicken liver and heart (leftover
from making stock)
1 1⁄2 cups nely diced vegetables such as carrot, celery, red pepper or string beans
Sea salt or sh sauce (page 157 cookbook or other organic source) and pepper
Bring stock and rice to a boil and skim off any foam that may rise to the top. Reduce heat and cook, covered, about 1 hour until rice is tender. Add the vegetables, diced meats, season to taste and cook until just tender, about 5 to 10 minutes. Children love this!
Recipe provided by Healthy Traditions Network, the Metro Detroit chapter ofthe Weston A. Price Foundation.