Resomation, Ltd., in Glasgow, Scotland, has invented a new alkaline hydrolysis unit as a green alternative to cremation. Founder Sandy Sullivan plans to install the first one in America at the Anderson-McQueen Funeral Home, in St. Petersburg, Florida.
Mercury from dental fillings vaporized in crematoria has been blamed for up to 16 percent of British airborne mercury emissions, and many facilities there are fitting costly mercury filtration systems to meet reduced emission targets. The device dissolves the body in heated, pressurized, alkaline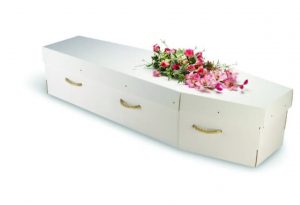 water. Makers claim the process produces one-third less greenhouse gas than cremation, uses one-seventh of the energy and allows for complete separation of mercury-laden dental amalgam for safe disposal.
Sullivan, a biochemist, says tests have proven the effluent is sterile, contains no DNA and poses no environmental risk. He believes it can rival cremation for cost. The technology has been legalized in seven states to date.
Another green alternative, Promession, is under development by Swedish Biologist Susanne Wiigh-Masak. It involves a fully automated machine that removes the body from the coffin and freezes it with liquid nitrogen. Vibrating breaks the corpse into fragments, which are then dried, refined and filtered to remove dental amalgam and other metals. The remains are then automatically poured into a biodegradable container for shallow burial.
Wiigh-Masak likens the process to composting, in which organic materials convert to soil within weeks. She says that 60 countries around the world have expressed interest in the technology.
Source: BBC News