by Claire O'Neil
"What's a surefire way to get kids dashing to the dinner table? Simmer up a batch of hearty soup and then sit back and watch it disappear," says Ken Haedrich. "Kids love soup," he main­tains, "because it's warm and soothing and slurpy." A former navy Seabee and author of the classic Soup Makes the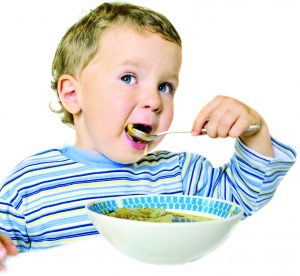 Meal, Haedrich is a father to four grown children. "Besides being kid-friendly, soup has other advantages," he contin­ues. "It can be made ahead of time, and you'll probably end up with leftovers—a bonus for busy families."
Soup is also a great way to get kids interested in vegetables and in cooking. "Starting at around 2 years old, kids want to be in charge of what they eat, just like they want to choose their own clothes," says Beth Bader, author of The Cleaner Plate Club. So Bader and her daughter Amelie started entertaining fresh ways of looking at food. At the grocery store or farmers' market, for example, they played "I Spy," as in "I spy something purple that tastes like….Amelie could pick any vegetable and we'd figure out how to cook it at home—often in soup," says Bader.
Chicken broth-based soups may also boost immunity and help battle the sniffles, according to researchers at the University of Nebraska Medical Center. Dr. Stephen Rennard and his colleagues found that properties of chicken soup help soothe sore throats and ease other cold symptoms.
Soups made with veg­etable broths likewise offer anti-inflamma­tory properties and comforting good­ness, maintains green living expert Annie B. Bond. Inspired by Hae­drich's book, Bond added her own spin to this soup for her daughter.
Grandma's Healing Soup
"This light, restorative soup is so delicious you don't have to be sick to enjoy it," says Bond. "Either way, its luscious fragrance helps clear sinuses, and the potatoes soothe the digestive tract. It's a delightful broth, filled with spinach, parsley, leeks and garlic, that yields minerals, vitamins and healing antioxidants, with some winter root vegetables for sweetness. A steaming bowlful on a cold winter day is wonderfully comforting."
Serves 4 to 5
1½ Tbsp olive oil
1 large leek, well washed, white parts only, chopped
1 large carrot, peeled and diced small
1 large potato, diced small
1 parsnip, peeled and diced small
4 cloves garlic, minced
5 cups vegetable stock
Sea salt to taste
Handful fresh parsley leaves, chopped
4 oz (large handful) fresh spinach leaves, rinsed and coarsely chopped
Freshly ground black pepper to taste
In a soup pot, heat the olive oil and add leeks, carrot, potato, parsnip and garlic. Cook, stirring occasionally, over medium heat about 5 minutes. Add stock and salt to taste, and then bring to a simmer.
Simmer soup, partially covered, for about 5 minutes, and then stir in parsley and spinach. Simmer, partially covered, about 5 more minutes or until the vegetables are tender. Add pepper to taste and serve piping hot.
Winter Vegetable Soup
This recipe is adapted from The Cleaner Plate Club: More Than 100 Recipes for Real Food Your Kids Will Love, by Beth Bader and Ali Benjamin. "Parmesan rinds are the secret to a rich flavor in nearly any soup," advises Bader, the mother of a 6-year-old. "When you finish up a wedge of Parmesan cheese, save the rind and freeze it for later use. When you add the rind to a hot soup, it will melt a bit and little pieces of Parmesan will blend into the soup. " Tip: She finds farro, an ancient strain of grain, in the bulk foods aisle.
Makes 12 servings
2 Tbsp extra-virgin olive oil
1 large onion, chopped
2/3 cup chopped carrot (about 3 medium carrots)
2/3 cup chopped celery (about 3 stalks)
2 garlic cloves, minced
10 cups vegetable or chicken stock
1 Tbsp dried summer savory
2 tsp dried thyme
2 bay leaves
2 small Parmesan rinds, optional
1 lb sweet potatoes, peeled and diced small (¼-inch cubes)
1 lb winter squash, peeled and diced small (¼-inch cubes)
1 cup farro, rinsed and drained or 1 cup lentils, rinsed, sorted and drained
1 bunch (about 12 oz) kale or chard greens, stemmed and chopped
Sea salt and freshly ground black pepper to taste
Warm the oil over medium-low heat and add the onion, carrot and celery. Sweat this combination, known as a mirepoix, until the onion is translucent.
Add the stock and the savory, thyme and bay leaves. Bring to a boil, and then reduce the heat to a simmer. Add the sweet potato, squash and Parmesan rinds, and then simmer for 30 minutes.
Add the farro or lentils and simmer for 30 more minutes (or until the lentils, if present, are al dente).
Add the greens, and simmer for 5 more minutes.
Remove the bay leaf and Parmesan rinds. Season with salt and pepper to taste and serve.
Annie B. Bond blogs and writes at AnnieBBond.com. Beth Bader blogs at ExpatriatesKitchen.blogspot.com and EatLocalChallenge.com.
Claire O'Neil is a freelance writer in Kansas City, MO.
photo by Stephen Gray Blancett
photo by Beth Bader