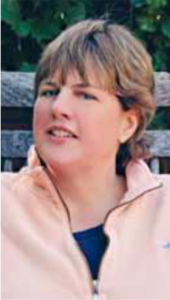 Becky Stevens, of Becky Stevens Holistic Alternatives, LLC, is holding a special medical intuition event for those with aging concerns at 3 p.m. on November 19 at her new offices at 18090 Mack Avenue in Grosse Pointe. She will utilize this expertise to help identify the defective gene for aging.
"Medical intuition is the ability to ascertain and assess areas and levels of dysfunction in the body," explains Stevens. "This allows me to treat the root causes of health challenges by suggesting herbal, homeopathic, vibropathic remedies or JMT that will be of the most bene t."
Stevens, who offers options for healing and wellness through medical intuition and energy healing, assists adults, children and animals with a variety of health issues. She has helped people with back pain, depression, cancer, autism, multiple sclerosis, allergies and many other conditions.
"I will intuit to determine if you have the faulty gene," says Stevens." Energy healing will not take place at the event. It's being held just clarity if those who attend have the faulty gene, and to learn if lifestyle changes are necessary for prevention."
The cost to attend is $50 (cash only) and no appointment is necessary. For more information, call 586-294-6540.