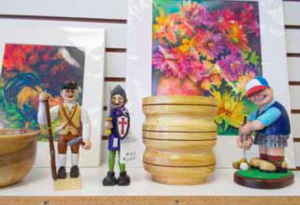 The Visual Arts Association of Livonia (VAAL) will host a Holiday Shoppe from 10 a.m. to 7 p.m. daily from December 2 to 10 at the Village Shopping Center, in Livonia. A public gala will be held from 6 to 8 p.m., December 1, featuring refreshments and a meet and greet with some of the artists.
Offering one-of-a-kind holiday gifts created by local artisans, this juried event features pottery, fiber, hand-blown glass, jewelry and other accessories, wood items, clothing, ornaments, framed and unframed art and more.
Formed as a nonprofit organization in 1993, VAAL offers art classes, workshops, monthly presentations and twice-yearly exhibits. Classes and workshops are taught year-round by award-winning professional art instructors. The winter class schedule will be available at the Holiday Shoppe.
 Admission is free. Location: 37653 Five Mile Rd. For more information, call 734-838-1204 or visit vaalArt.org.